Proven Leadership
Take your business to the next level with leaders that are highly engaged in your success.
Fueled by our passion for service excellence, each of our leaders play a crucial role in the execution of our strategic direction with the skills, expertise, and real-world experiences you'd expect from one of the nations most recognized technology services provider.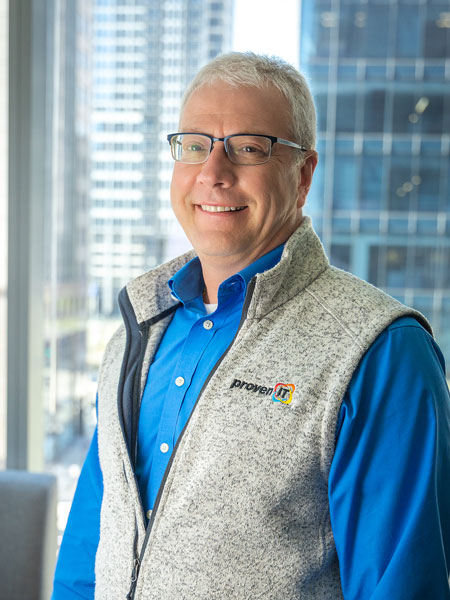 Bob joined Proven IT in 2016 as our Vice President of Sales. With over 30 years of industry experience, Bob prides himself on teaching our new generation of sales professionals. Thanks to Bob, Proven has grown and built lasting relationships with our clients.
Before joining our team, Bob worked at COTG – A Xerox Company as the Vice President of Sales for almost 30 years! Before his career in sales, Bob graduated with a Bachelor's Degree in Business and Economics from Benedictine University.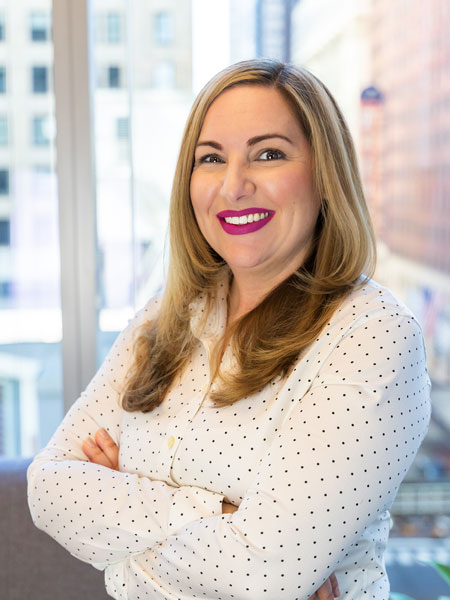 Christine is our Senior Director of Managed Sales, a title she takes very seriously! Christine prides herself on being a visionary, goal oriented, and has a passion for recruiting and training talented salespeople. Since 2019 when she joined our team, she has created long-term partnerships with many of our clients.
Christine has an extensive background in sales, where she landed herself in the top 1% of sales Nationally at La-Z-Boy! She also has a Bachelor's of Fine Arts from Savannah College of Art and Design where she also provided GED tutoring to those living in the Savannah Homeless Shelter.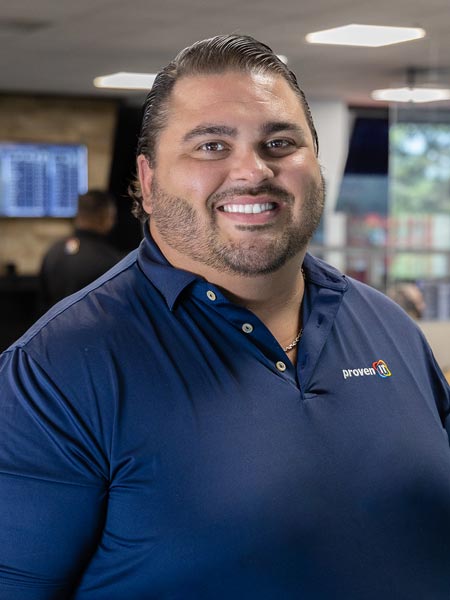 Chris has been a part of the Proven IT team since 2013, when he joined as an Account Manager. Since then, he has been promoted to Director of Sales and then Senior Regional Director of Sales. Every year Chris sets ambitious goals, and every year he exceeds them.
Before joining our team, Chris was an Account Manager at Martin Whalen Office Solutions as well as a hockey coach at St. Jude Hockey Club. In fact, Chris is a USA Hockey Level 4 Coach! He earned a Bachelor of Education in History from Saint Xavier University.
Outside of the office, Chris volunteers as a Youth Hockey Coach and is the President of the Associate Board for Sertoma Center, Inc., a non-profit organization that supports those living with disabilities in Illinois.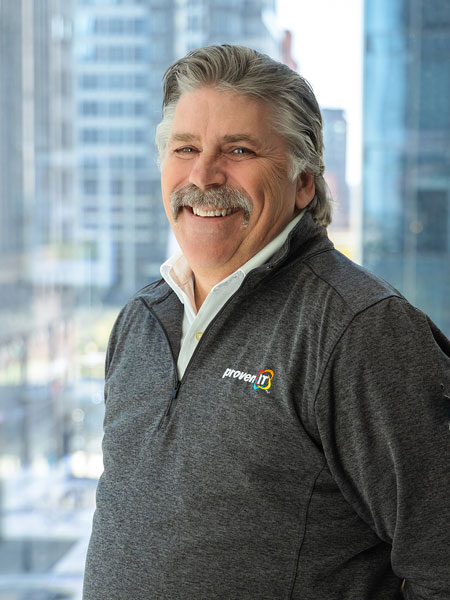 Dave is Proven IT's Director of Service. Starting as a Field Technician, Dave has been a part of Proven's customer service at every level and helped lead internal and external efforts to put the industry's most effective customer service teams in the field. As a Service Leader, Dave helps his teams achieve benchmark profit margins for multiple years running.
Earning his degree at DeVry University and working as a service manager before joining Proven, Dave is proud to be a growing part of our 20-year history.
Outside of work, Dave enjoys his time on the golf course and spoiling his grandchildren.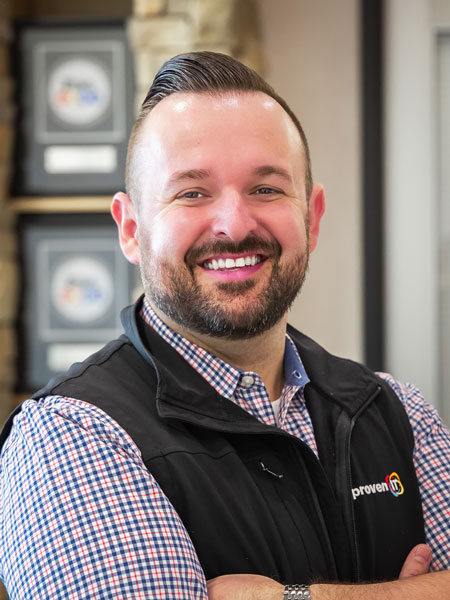 Emir has been a valuable part of our team since 2017 as our Director of Cybersecurity. He prides himself on his OS X, Windows, and Document Management skills that he has perfected over the years. Awards include CRN Top 150 MSP Elite and CRN Top 500 Solutions Provider.
Emir's background includes Director of Technology at Liberty Furniture and Managed at Geek Squad (surprise, surprise!). Emir has a strong information technology background, with a Bachelor of Science in Computer and Information Systems and Master of Business Administration.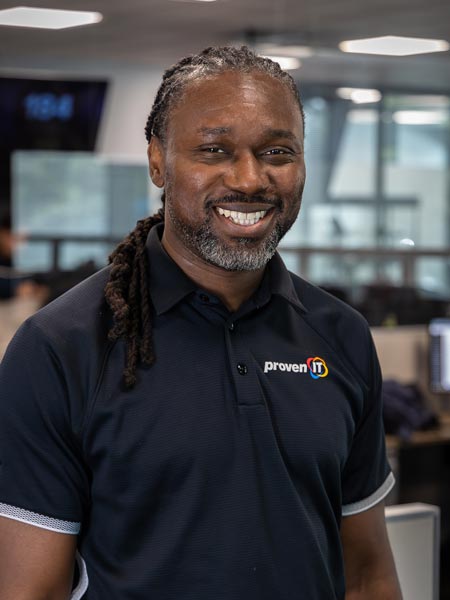 Emmanuel started at Proven IT in 2015 as a Solutions Specialist. From there, he was promoted to Senior Solutions Consultant, and then Solutions Consultant Manager. In this role, Emmanuel helps companies see how their current Document Management and Managed Network Services can be enhanced.
Prior to joining our team, Emmanuel worked as a Sales Lead at Best Buy. Emmanuel earned his Bachelor of Science Degree from Valparaiso University, where he focused on International Business.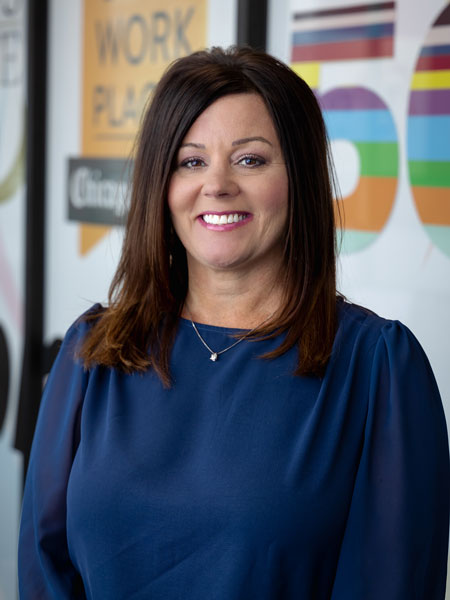 Gina is the Vice President of Finance here at Proven IT. For the last two years, Gina has helped our Finance and Administrative departments implement various processes to increase efficiency and productivity.
Prior to joining our team, she worked at COTG – A Xerox Company for over 25 years! Gina completed her Bachelor's Degree in Accounting at the University of Illinois Chicago.
When Gina is not busy keeping our finances in order, she enjoys spending time with her friends and family.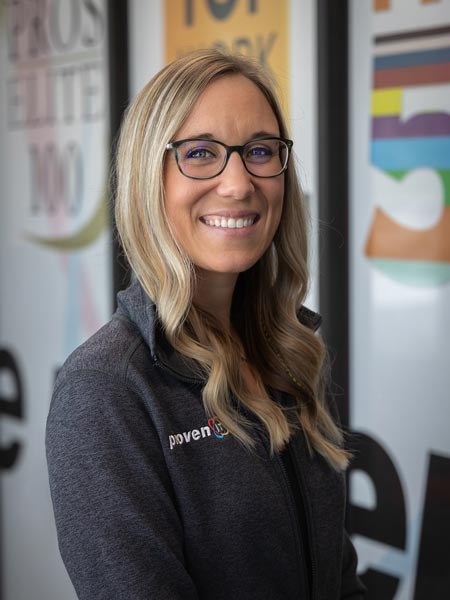 Jacki Opyd has been on the Proven team since 2019 as a part of our In-House Counsel. With an impressive background in law, Jacki provides our team with legal and business advice. Jacki prides herself on her legal writing, analytical skills and ability to negotiate contracts.
Before joining the Proven team, Jacki gained over 10 years of experience as an Attorney in private practice. She earned her Juris Doctor or Law Degree from Chicago-Kent College of Law. While there, she was a member of the Society of Women in Law and served as Treasurer.
Outside of work, Jacki enjoys spending time with her friends and family, playing with her three children, and staying active.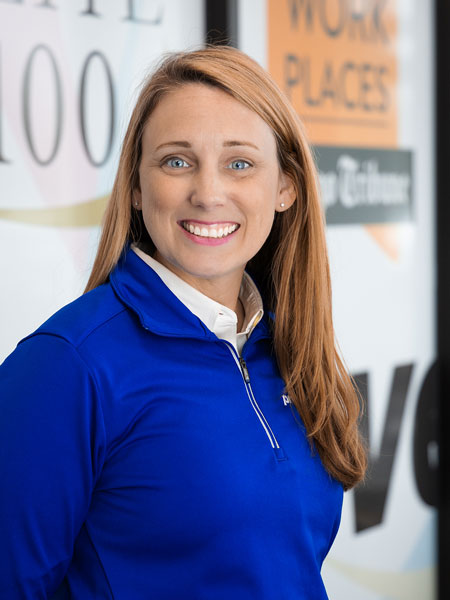 Kelly has been Proven IT's Vice President of Human Resources for over 7 years. She's honored to have the opportunity to be a leader and resource for all the employees at Proven IT. She and her team support Recruiting, Learning and Development, Benefits, Employee Engagement, Payroll, and Business Operations including policies, processes, insurance, reporting strategies, and more. Kelly joined the company leading organizational development with the goal to develop a culture of learning and coaching within Proven. During her leadership, we've created an Emerging Leaders program, which has led to over 40 employees being promoted into higher contributing roles and leaders! Proven continues to promote within and coach talent to reach their goals.
Before joining Proven IT, Kelly received her degrees at Western Illinois University and Roosevelt University and worked at Distinctive Business Products, which was owned and operated by the Cosich Family.
She is a member of SHRM and a volunteer at Bridge Church of Algonquin. When Kelly is not busy coaching our wonderful team, she loves spending time with her three children, cheering them on at the baseball and softball fields!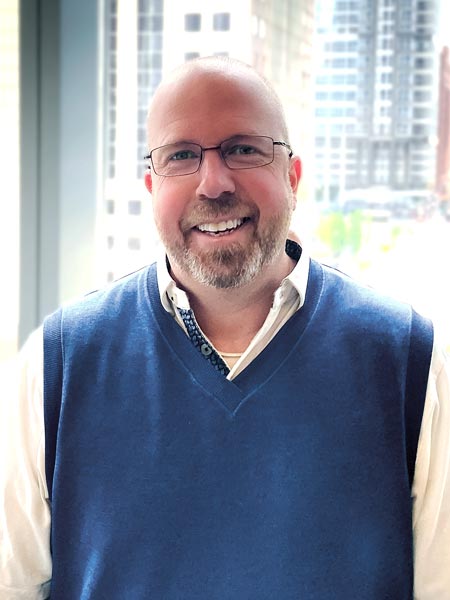 Kevin joined the Proven team in 2020, as our Senior Director in Sales. He is responsible for overseeing sales, expense control, and profitability. He prides himself on being able to turn low sales-generating teams into top performers while boosting market share.
Before joining the Proven team, Kevin worked as a Director of Sales at a technology company, where he generated a 60% increase in revenue. He earned his Bachelor's Degree from Southern Illinois University. Here, he was also a part of the Sky Diving Club!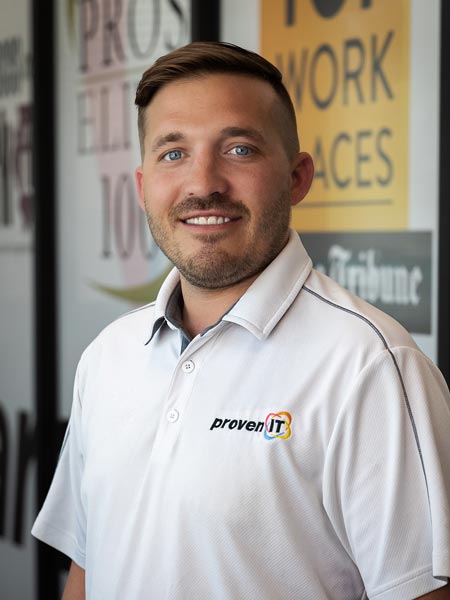 Mark has been with Proven IT since 2010, where he began as a Senior Account Manager, and has grown into Director of Solution Sales. Over the years, Mark has worked with thousands of companies to improve departmental processes using a variety of custom technology solutions.
Prior to Proven, Mark was a Consultant at Impact Networking where he gained industry knowledge. He attended Eastern Illinois University and received a Bachelor's Degree in Business Administration.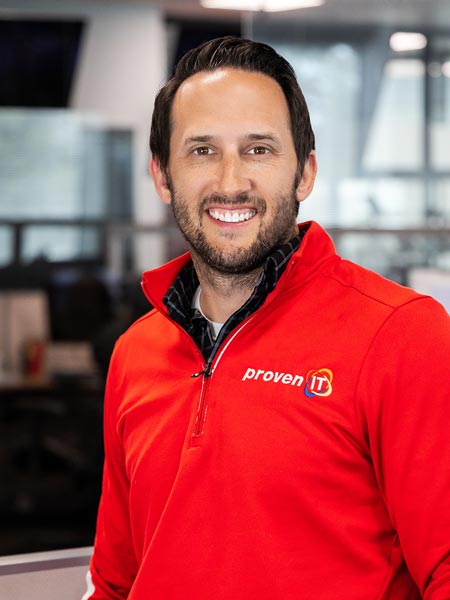 Matt joined our team in 2018 as MNS Service Manager. From there, he has worked his way up to Director of Managed Services. Matt has had a huge part in building customer workflows, where he has helped response times go from days to under 30 minutes!
Prior to Proven IT, Matt worked as a Network Administrator where he specialized in upgrading and implementing new servers, softwares, and other programs to optimize workflows. Matt earned his Bachelor's of Information Systems from Eastern Michigan University.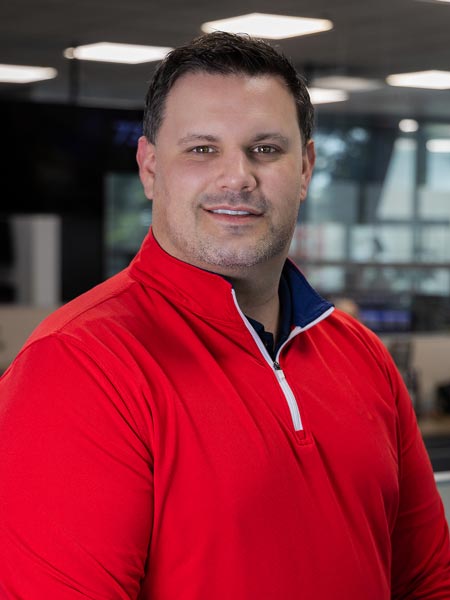 Since 2016, Matt has been a Senior Managed Services Consultant, where he identifies and capitalizes on new opportunities in the tech industry. Matt works hard to support his team and provide a personal connection with clients.
Before joining the Proven team, Matt worked as the Director of Sales and Business Development for a telecommunication company. He attended Eastern Illinois University where he earned a Bachelor's Degree in Marketing. There, he was also a part of the Sigma Pi – Beta Gamma Society.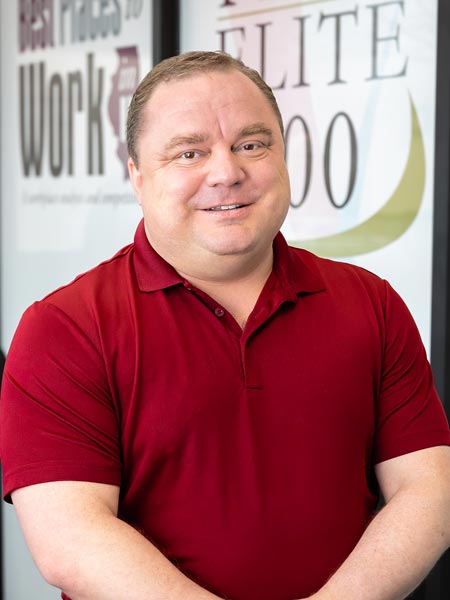 Nick has been a part of the Proven IT team since early 2020 as our Director IT Business Processes and Virtual Chief Technology Officer. Taking pride in his out-of-the-box thinking, Nick explores every possible solution to find the one that fits the best. Nick always has the client's best interest at mind when he makes his recommendations, establishing fantastic relationships.
Nick's impressive portfolio includes being the Director of IT M&A and Infrastructure at Flex Technology Group and IT Director at COTG – A Xerox Company. Nick gained his impressive skillset from Provident University, where he received his Masters Science in Information Technology.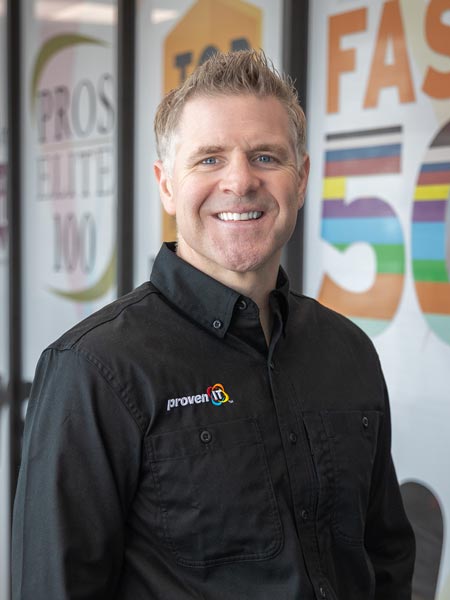 Phil is Proven IT's Director of Operations, a title he's held for over a year. He leads, guides, and coaches our Operations Employees while creating the highest level of efficiency throughout Proven's business processes. He takes great pride in building a culture of accountability and creating an honest atmosphere where employees feel safe to speak and voice their concerns. Collectively, his team is building the foundation that is allowing Proven's operation to scale and support our continued growth.
Before joining Proven IT, Phil worked for W.W. Grainger for decades and he received his education at the College of DuPage. Outside of work, Phil is a running enthusiast, having completed the Soldier Field 10 Miler race three separate times, with the goal of completing his fourth this year.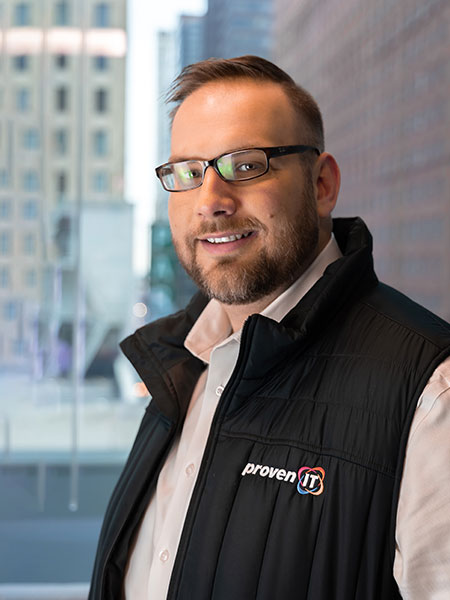 Tim joined the Proven team in 2016, where he started out as Director of Branch Sales. Over the years he has grown into his current role, Senior Director of Marketing. Tim prides himself on building a team of empowered, engaged, and enabled individuals who are always looking out for the client's best interests.
Before joining the Proven team, Tim worked at both COTG – A Xerox Company and Canon Solutions America where he gained industry knowledge and success. He also has a Bachelor of Arts from Roosevelt University and a Master of Arts in Teaching from National Louis University!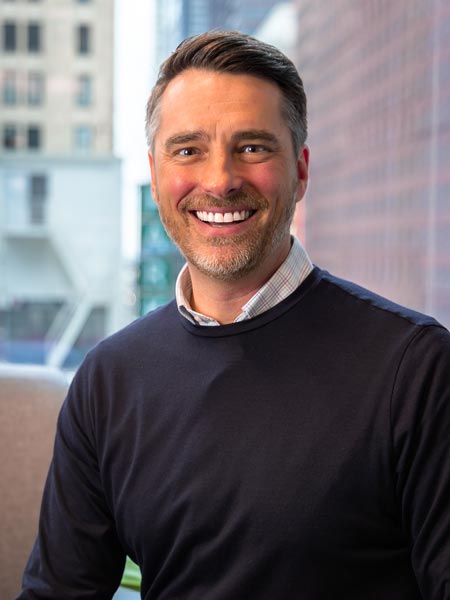 Since 2021, Bill has overseen the Go-To-Market Strategy at Proven IT. Leveraging 25 years in professional services, commercial office and technology, Bill's main roles are focused on revenue generation, business development, marketing, and sales enablement. He leads with an externally consultative approach and is a client advisor for Proven's suite of services including MNS and office technology solutions. He has been instrumental to the continued growth of Proven through B2B partnerships, strategic alliance, and national vendor relationships.
Bill received his B.S. in Applied Science and Technology from Illinois State University and was inducted into the ISU C.A.S.T. Hall of Fame.
Outside the office, he is an active member of the Economic Club of Chicago and board member of Thresholds and the Chicago Loop Alliance. Married for over 20 years with two children, Bill and his family are actively involved in the community, school district and multiple charities.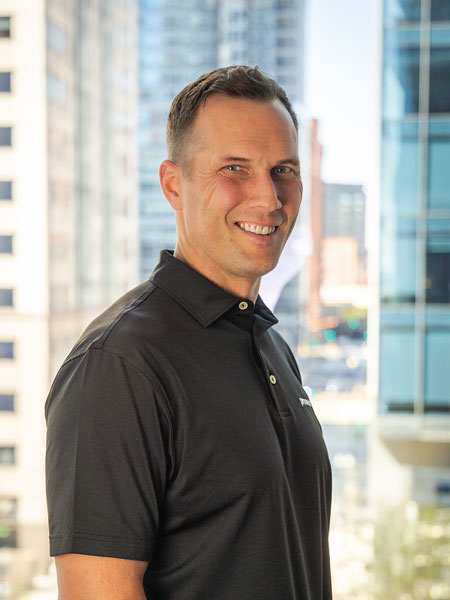 Dan, one of Proven's Managing Partners, has been with the company for over 13 years. His main duties include Business Development and being one of Proven's top sales reps. Before joining the company, Dan received his degree from Michigan State University and worked in the Real Estate industry. Since joining Proven, Dan has been awarded the title of Top Sales Rep in four separate years and eventually became a partner in the company, a feat which he considers his greatest success as a Proven IT employee.
Dan is a member of The American Hotel and Lodging Association, Illinois Hotel and Lodging Association, Illinois Network of Charter Schools, and Chicago Leadership Academy.
Outside of Proven IT, Dan is a devoted father to three young daughters and enjoys playing golf in his free time.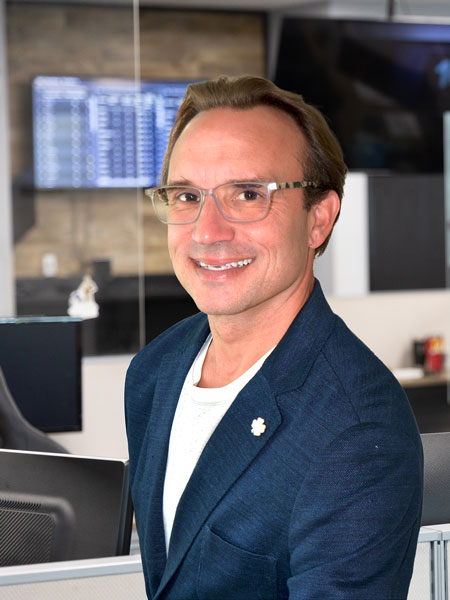 Chris has been with Proven IT since 2010 as a Managing Partner. He provides insight on marketing trends and opportunities to implement business strategies that allow Proven IT customers to accelerate their business success with a holistic approach to sourcing, onboarding, and sustaining value-driven technology.
Before joining our team, Chris has another 8 years of experience in sales. He received his education from the University of Notre Dame, where he focused on Business Development. Chris currently volunteers at both Big Shoulders Fund and Shedd Aquarium where he is a member of the Auxiliary Board.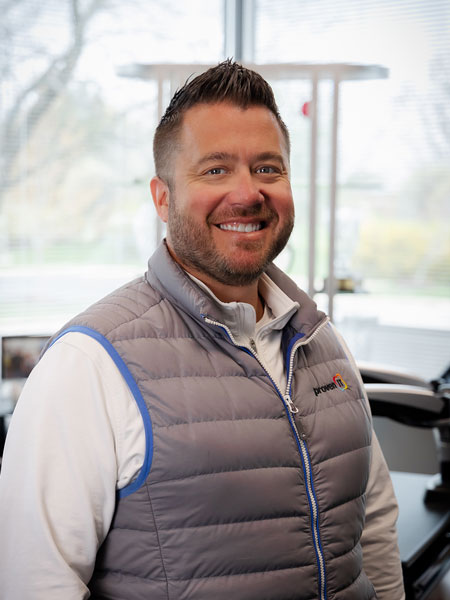 As one of Proven IT's Managing Partners, John Ross has been a key part of our leadership for over 17 years. He is passionate about building strong relationships and growing our footprint in the Chicagoland market. As a sales consultant, he has the honor to work with talented individuals from many of our 4,000+ customers. His contributions have helped grow our IT Services, which serves as a primary example of how Proven IT's future vision is helping our clients to achieve the security, accountability, and functionality needed for today's IT infrastructure.
John Ross received his Business Degree from DePaul University. Before starting at Proven IT, he served as a Sales Executive for Lake Effect Powersports where he perfected his customer service skills.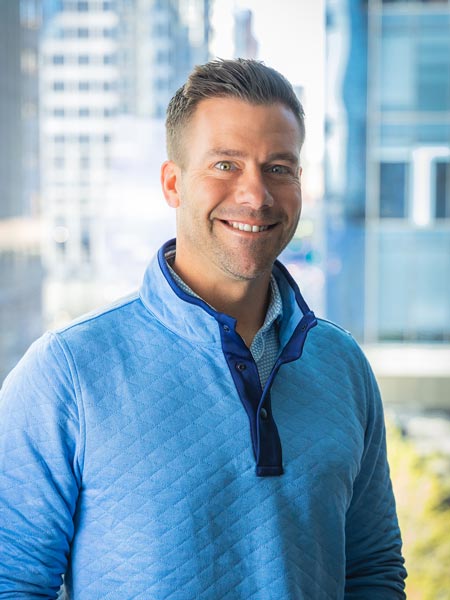 Tory Cosich has been with Proven IT since the very beginning, over 20 years! As a key member of the leadership team, Tory's main goal includes business development and strategic partnerships. Tory has played an instrumental role in growing the company from a small startup to one of the largest technology firms in the nation.
Before joining Proven IT, Tory graduated from DePaul University with a degree in Marketing. For the last 10 years, Tory has belonged to the Chicago Business Resource Group (CBRG), where he participates in fundraising efforts for organizations and non-profits throughout the Midwest.
A fun fact about Tory is that he has done over 10 Ironman competitions and 3 ultramarathons!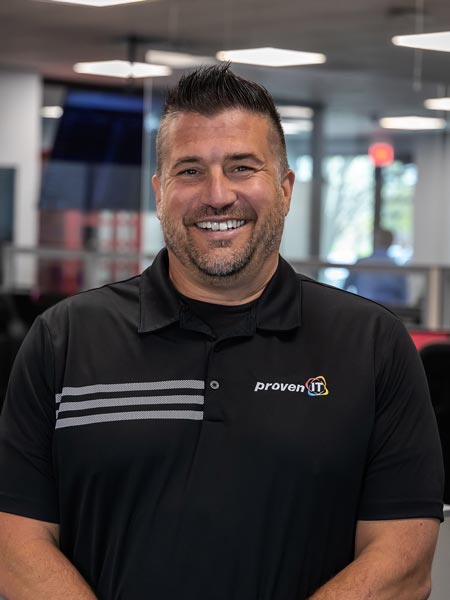 Brett has been Proven IT's Chief Operation Officer for over 20 years. His leadership over the past two decades has helped propel Proven to new technological heights, expanding the business across the many facets of the fast-moving IT industry. Always striving for new horizons, Brett has been instrumental to key acquisitions such as ThinkTank in 2021.
Before starting at Proven IT, Brett received his Business Degree from Indiana University Bloomington and worked as a Consultant for Price Waterhouse Management Consultants. While performing his COO duties at Proven, he obtained his Master of Business Administration (EMBA) from the University of Notre Dame's Mendoza College of Business.
Brett enjoys time with family and is known as the Grill Master at the Proven office!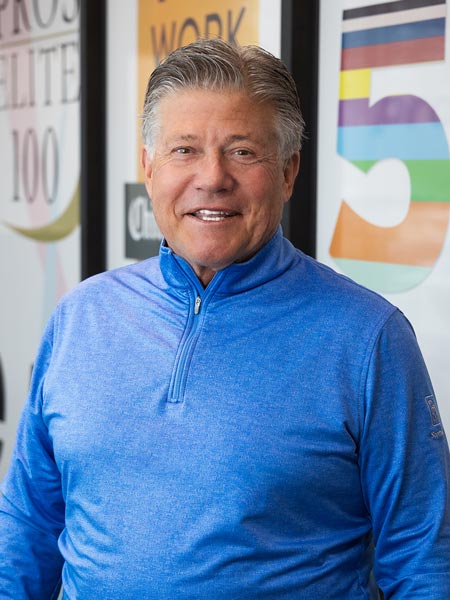 The founder and CEO of Proven IT, John Cosich has helped transform our business into one of the most respected IT solution providers in the United States. With over 20 years at Proven IT, John has built a proven track record of driving business growth through innovative technology strategies with a focus on customer satisfaction.
Prior to starting Proven IT, John attended Valparaiso University where he studied business and was a part of the Tau Kappa Epsilon society. He landed his first job with Xerox, where he gained industry experience and excelled as one of the top performers in the country.
In his free time, John loves to hit the green and show off his golfing skills!
We are proven.